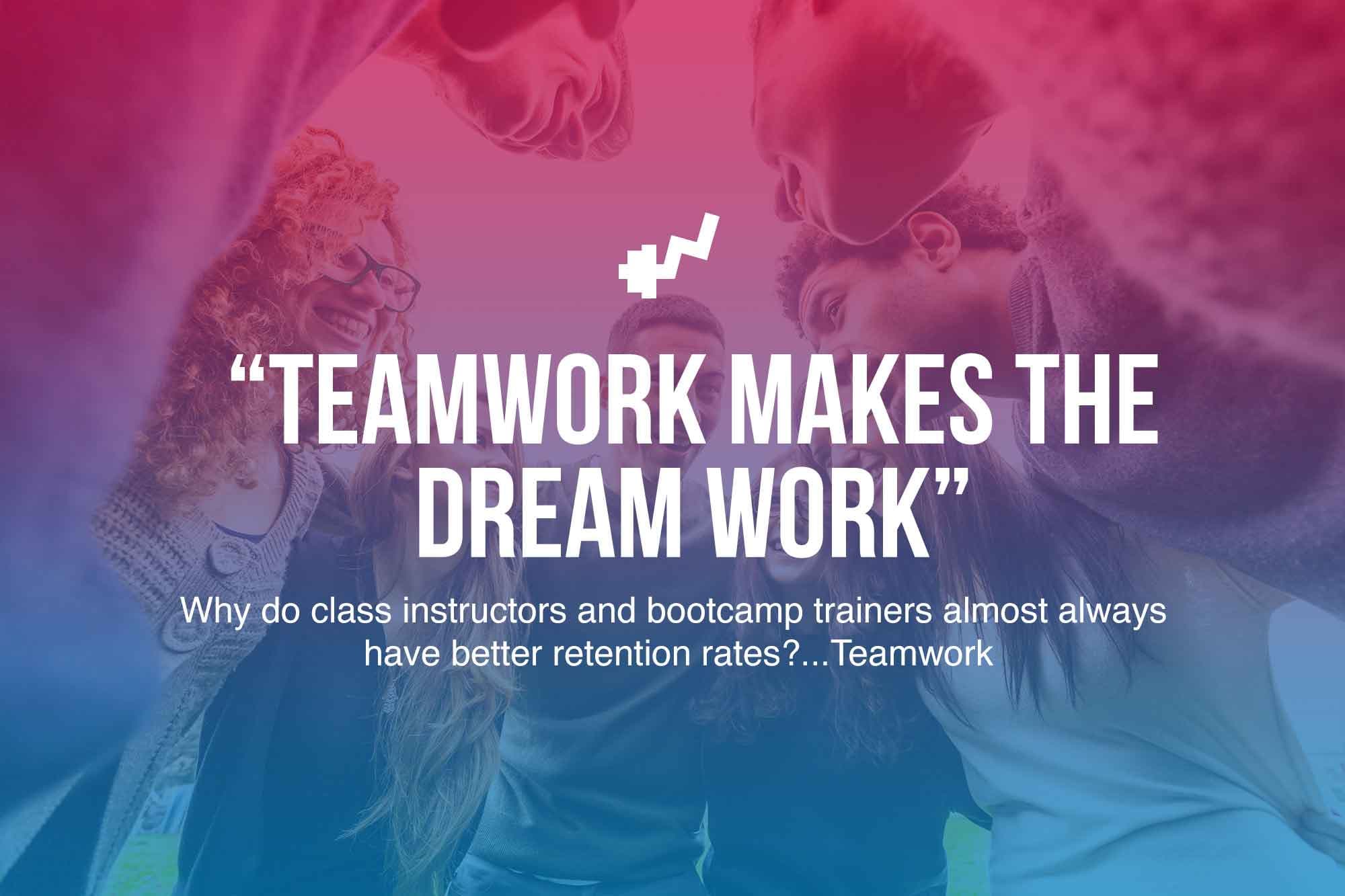 Teamwork Makes the Dream Work: How to take your clients from individuals, to the best damn team in the gym
You know why class instructors and bootcamp trainers almost always have better retention rates than one to one coaches? It's because of teamwork and camaraderie. As a client, when you're training in a group, with other people who've got similar goals and personalities, and who you can have fun with, share your struggles and revel in each others' achievements, you want to keep on being part of that. It doesn't matter if you have to miss a few sessions – you look forward to getting back to training. Rough day at work? Never mind – seeing everyone else will make you feel better. And if you ever consider quitting, there's that nagging notion that you're letting everyone else in the group down, and may not see them again. With one on one training though, it's a different story. Sure, you might love your trainer, but if you ever decide to quit training you're only disappointing one person. Plus, if you have a tiny falling out, the relationship can become salty, and may never recover. It's not easy being a one on one personal trainer. One dreary session, one misplaced piece of motivation, or one sub-par workout, and you risk losing a client. Studies also show that group exercise participants tend to have greater stress relief (1) and lower drop-out rates (2). It's clear that keeping a happy client base is tougher when you're working one on one. But you don't want to become a group instructor – you want to be a PERSONAL trainer. So how can you bring the level of fun, accountability and motivation of a group setting into your own client base? The answer is to develop a community.
A Trip to Toronto
On a recent trip to a conference in Toronto, I was introduced to Mark Fisher, who runs Mark Fisher Fitness in NYC. Mark is successful … seriously successful … but his talk wasn't about profit and loss sheets, search engine optimisation or email marketing. Instead, Mark described how he'd taken his personal training facility from zero to a $4m (US) turnover in 4 years. His secret – building a community. The standard of training at the gym (or "clubhouse" as they call it) was very high, and Mark and his staff knew their stuff when it came to biomechanics, muscle protein synthesis, and could tell their sternocleidomastoid from their serratus anterior, but what really made clients keep coming back for more was because they made them all into a team, and got them to engage with one another. Training wasn't just about getting leaner, stronger and fitter and burning a few calories – it was about making sure clients looked forward to the interaction they had whenever they were at the facility. Now, if you're at a big box gym, with less control over how you run things, all is not lost – you can still build up this rapport with your clientele and make them more than just a number of individuals you train separately.
Here's how:
"Team XXX" Tee Shirts
Every trainer should give long-standing clients a branded tee shirt, but instead of just giving out ones with your company name and logo on, get each client a tee that says "Team (whatever your brand is)" on the front, and has their name or nickname on the back. That way, even if your clients don't know each other from the outset, they'll notice others walking around the gym, and start to chat.
Hold Coffee Mornings
You might not like the idea of arranging group workouts, and that's cool, you have to stay true to what you believe in – i.e. one to one training. But why not organise a low-key social event? Once a month or so, hold a client-only coffee morning. (These can be done separately to your Q&As as outlined
here
 and the idea is not to talk about fitness, but keep all the chat to personal stuff, fun and frivolity.
Learn the Lingo
Having your own sayings that all your team can use is a very cool way add amusement into training, and make people feel like they're part of a team. This was another tip I picked up from Mark, whose guys and girls have such sayings as "porn star" for lumbar extension. You may or may not want to get that fruity with your language, but having your own unique team-only cues for how to perform an exercise, or even renaming certain circuits or workouts acts as kind of a code that keep sessions fun. Sure, the hardcore bodybuilding bros might think you're kooky as hell, but so what? If your clients love it, rock on.
Let's Party
Every few months set up a bigger event. This could be a meal, a night out, or you might even hire a venue. Fitness or non-fitness based? It's up to you. You might want everyone just to let their hair down and chill, or you may want to add value by making it into a cooking lesson or a book club. Again, the choice is yours, but ASK your clients what THEY want to establish your best course of action.
Let's Be Friends
Having your clients connect on social media by way of a private group works a charm. That way, even though 59-year old post-hip operation client Betty trains at 8am on Tuesdays and Thursdays, and 21-year old formerly skinny, now semi-buff Ben is with you Mondays and Fridays at 6pm, they can still connect. Not only are Facebook groups great for interaction and building bonds, but it's also a way clients can ask questions and get answers to their queries from others, without needing to ask you. This saves you time, and empowers your clients to share the knowledge, giving them a sense of worth within your business.
Your Clients Aren't Individuals
Make as much effort as possible to introduce your clients to each other. That way, even if they have completely polar opposite goals and train in different ways when they're with you, they'll feel connected in some way. The more you can get clients to talk to each other, and talk about you, the more successful your business will be. Plus, you'll have more fun, and there's a lot to be said for that.
References: