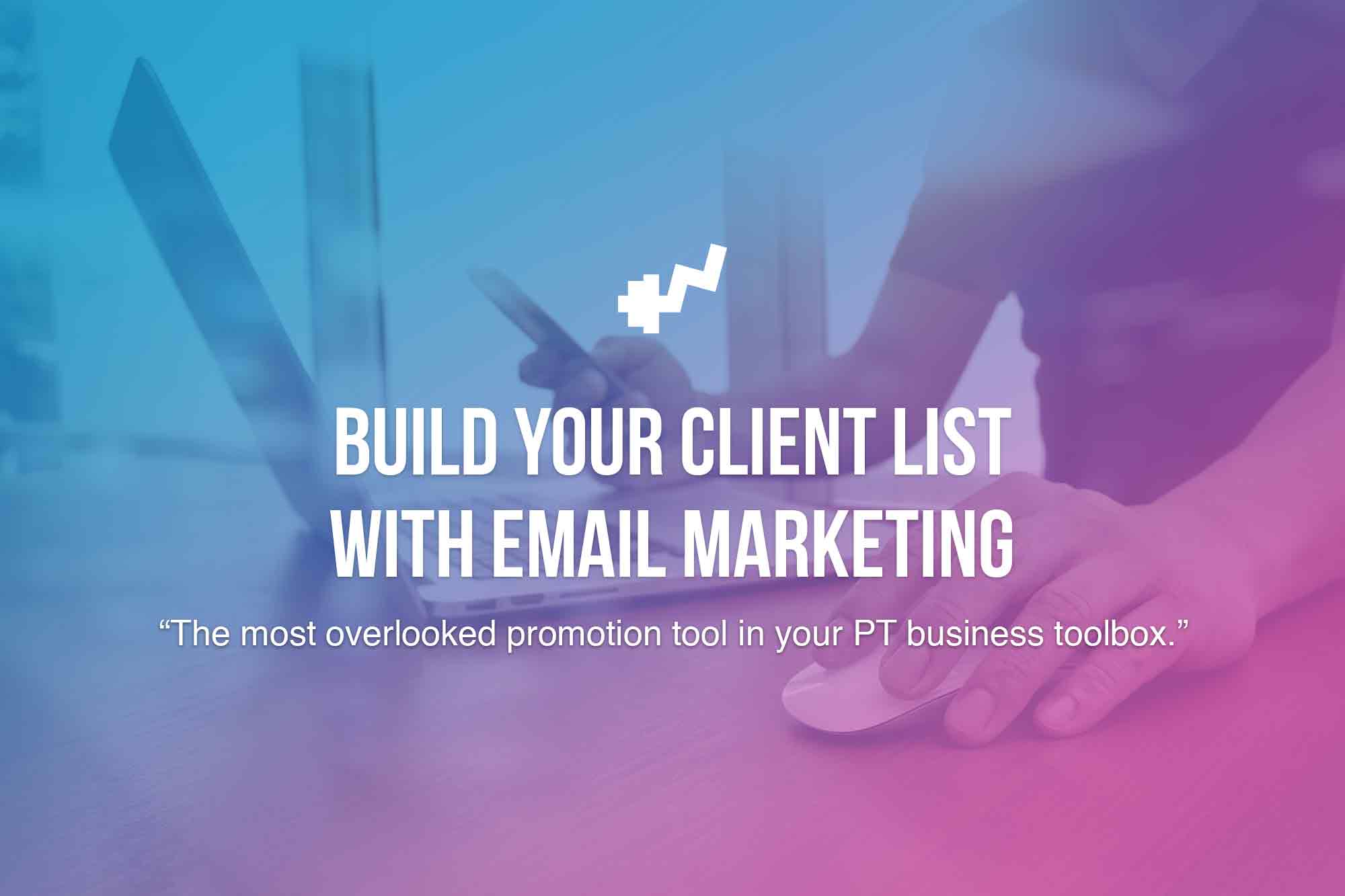 How to Build Your Personal Training Client List with Email Marketing
How to Build Your Personal Training Client List with Email Marketing
Email is one of the most powerful tools for attracting new clients. In the online training world, email marketing has long been used to pick up distance clients, or sell fitness information products and e-books, but it could also be the most overlooked promotion tool in your PT business toolbox. If you're sat here thinking –
"But Mike, how does that work?
Isn't the beauty of email marketing the fact that I can talk to potential clients all over the world? Why would I need it when I see gym members every day and can actually talk to them face to face?"
I hear you. I used to think exactly the same, but if you get your email right, not only does it give you a wider reach at the gym, you also get to converse with people you wouldn't do otherwise, and you get a huge edge over your competition.
Why Email?
The biggest reason why you need to email gym members is coming up in just a second, but the first reason is to do with confidence. You may not be the most confident person when talking to someone face to face, and it's the same with plenty of folk who go to your gym. If you know that you're not too great at speaking in public, you find it difficult to get your point across, or you're even a little embarrassed to talk about how you can help someone, it's much easier to do this in an email. Plus, if you're feeling like that, you can guarantee that some gym members are probably a bit shy too, and even if they want to approach you and have a chat, they may not. This is where email comes in as it removes the nerves of making an initial in-person contact. Secondly, using email gives you something called
TOMA – Top Of Mind Awareness
. Gym members think about personal training when they're in the gym, but when they're at home, it's probably not something that crosses their mind. During their workouts (when they might be pondering personal training) they're sweaty, in a rush, and may think –
"I should really call one of the guys who work here and ask for some help with my fitness."
Or –
"I'll go check out the PT profile board later."
All too soon though, they've finished their session, hit the showers and headed home, where they don't think about training again until next time they swipe their membership card and head to the treadmill. What if you could hit them when they're at home though? Or in the office? Or checking their email while waiting for their bus to work? Being in email contact with gym members means that they're always seeing your name around, and you become the authority in their eyes, meaning the moment they want a PT, you're the one they'll go to.
How to Build Your Email List
First up, you'll need some email marketing software. Good free options include Aweber and Mailchimp, which don't charge until your list gets to a certain size. There are two ways you can build an email list. The first is to use the gym's database. The advantage to this is that you get every single member's email within seconds. The disadvantage is that by simply emailing everyone without their permission, it can seem spammy, and people may not like it. You always want to have ethics and professionalism as a main priority, and not slip into the deep dark realms of shady email marketer. If you do decide to go this route though, just send an initial email saying something along the lines of:
Hey
You're receiving this email as you're a member of [insert gym name]
I'm [insert name] one of the trainers here, and thought you might be interested in my top tips for getting leaner and fitter, as well as loads of free advice, workouts and recipes.
If not, that's cool, just click the unsubscribe button at the bottom of this message.
If you like the sound of that though, add this address as a contact, and keep an eye out for my next broadcast. 
Your second option is to gather names and addresses, and make a list from scratch. You could just leave a list at reception for people to fill in, place a few round the gym, or (a better option) is if you take classes, hand out mini articles or tip sheets at the end of group workouts, asking people to email you if they liked that and would want more. A great way to do this is either make an article with a 2-part workout, or an article about the power of protein, with a picture of a tasty, homemade high-protein dish, and ask people to email you if they want either the second part of the workout, or the whole recipe. One by one, you can build a list of people who are great prospects for signing up for training.
Educate and Entertain, Don't Pitch
The goal of an email list isn't to constantly pitch your services, or throw out offers and deals. You simply want to provide information and entertainment so that you build a bond with your audience. The best way to do this is send different types of emails a few times per week. These don't need to be long, and needn't take more than 5 to 10 minutes to put together. One structure that I've found works really well is one training or fitness-based email each week, one diet and nutrition one, and another that shares articles or videos from people you follow. To give you an idea for a first month of content, try this:
Week 1
Monday – Top 5 tips for making your cardio workouts more effective
Wednesday – A featured recipe
Saturday – Your weekly best article round up
Week 2
Monday – Sample chest and back hypertrophy workout
Wednesday – Easy ways to get more protein in your diet
Saturday – Your weekly best article round up
Week 3
Monday – Featured recipe
Wednesday – How to get a workout when you only have 15 minutes
Saturday – Your weekly best article round up
Week 4
Monday – Busting the myths surrounding carbs
Wednesday – A full run-down of the front squat, including benefits and technique pointers (include a video with this.)
Saturday – Your weekly best article round up
If You're an Expert, You NEED an Email List
Don't worry about trying to copy the sales emails you get in your inbox every single day. All you need to concentrate on when you email your list is sharing your knowledge with people who need it and trying to make fitness and diet accessible and entertaining. There's never any need to make a hard sell for training, but feel free to add in if you have any offers coming up, or any new time slots available. Above everything, always encourage people to email back with questions and get them to interact. You never know, someone who loves your content may just do so, and with the snowball effect and word of mouth, that one client gained from your email list could help you get fully booked. https://www.youtube.com/watch?v=CT_uWsrYNXg
Mike Samuels
 is an online coach, writer and personal trainer from Southampton, UK. Alongside his coaching work, he loves helping other young coaches build their businesses (both in-person and online.) He has a love of lifting heavy weights, drinking coffee and eating ice cream.
You can reach him at: