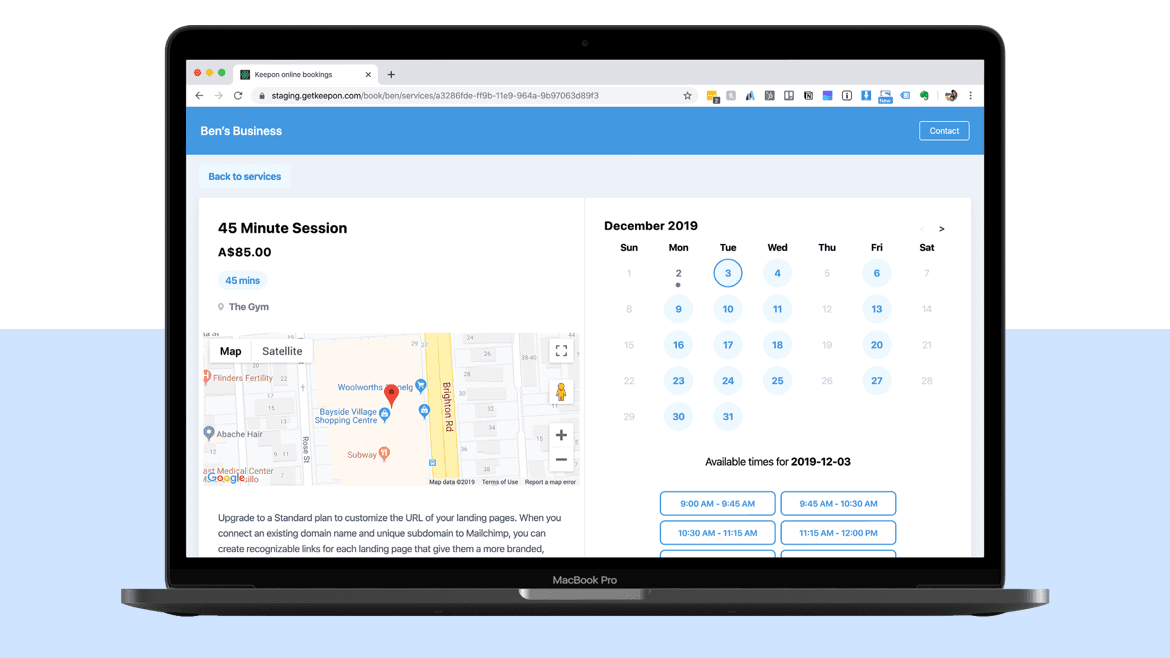 What are the benefits of setting up online books?
Never say "What time works for you?" ever. Again.
A few of the ways online bookings will benefit your business are:
Set up individual services e.g. "free consultation" or "45-minute appointment" that anyone can book into
Set your availability (so there are no double bookings)
Remove the back and forth of "Does 8:30 am work for you?", "How about 8:45 am" etc etc
People can book in while you sleep
Automatically integrates with the Keepon calendar
You have complete control and will get notified by email and in-app every time someone books in
Your clients can add the appointment to their calendar, so you're both on the same page
Add your bookable time (So people book in when YOU want)
You'll get your own online booking page (That's customized to your services)
Share your unique link anywhere so people can book (Think Facebook, Instagram, Twitter, your website )

How online bookings work in Keepon
Here is a brief overview of how online bookings work in Keepon, however, if you want a step by step guide check out this article.


1. Add Services
Create and manage your online services, name them, add a price, duration, and description. Making sure you'll get bookings in the time slots you want.


2. Set your hours
Set the hours that you want your leads and clients to book themselves into. Choose defaults for the week and override any ad-hoc days that you want to make different.


3. Get bookings
You get access to your own booking page that you can share anywhere. And If a new lead books with you, they get added to your contacts list automatically. you can find this URL under Online bookings/Online URL in Keepon.
4. Get Notified
Every time a booking is made online, you will get a Keepon notification and an email, letting you know the date, time and location that the booking has been made. The person that booked in will also be sent an email as well.
Want to have a chat with one of the Keepon team to answer any questions?
Book in a time with one of the team with our very own Keepon online booking link -> https://app.getkeepon.com/book/keepon (you could have a link & booking page just like this too! )