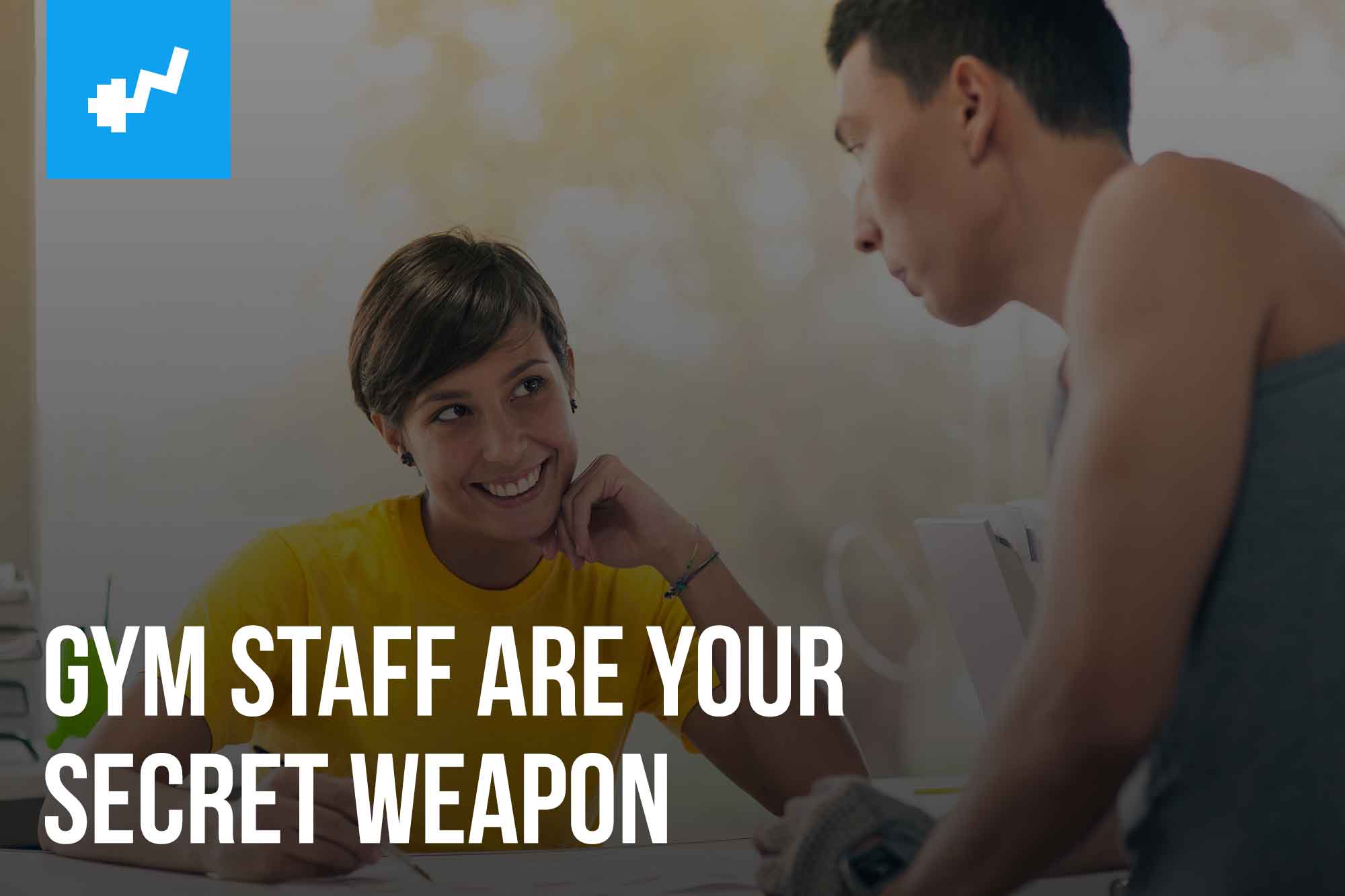 Why Gym Staff Are Your Secret Weapon
Why Gym Staff Are Your Secret Weapon
You see them every day. You walk past them on your way in, and again on your way out. They're all around you when you're training clients, taking classes, clearing up the weights area, and even when you're grabbing a coffee. You may even talk to them when you've got a few spare minutes, just to pass some time away. You're aware of them, but you're not aware what an amazing business tool they can be. We're talking about gym staff.
Members Won't Talk to You
Gym members can often be scared of talking to anyone in a personal training top. This isn't your fault, it's just that unfortunately, over the years, they've probably been sold to HARD by other trainers, who've pestered them to sign up for sessions. Then, when they've parted with their cash and had a few workouts, they've found the trainer to be unprofessional, unfriendly, and unable to deliver results. One bad experience with a PT can put someone off training for life. It won't always be like this, but a large percentage of gym members will likely be a little scared that all you care about is making money, not their health, happiness and goals, so they're not too keen to talk to you. This isn't the case with other people on the staff team though. Members will quite happily talk to the receptionists, the sales guys and girls, the gym manager, the cleaner and even the class instructors. If you can get all of these people talking about you, you've suddenly reached a huge portion of the gym membership base that you wouldn't have otherwise.
The Power of Referral
Having someone else say you're good at what you do is 10 times as powerful as you saying you're good at what you do. Now imagine how much credence and kudos those words carry when they're said by a member of staff. If someone at the gym is looking for a trainer, and asks the manager who they recommend and the manager says you, that's a huge pat on the back and a big, solid gold stamp of approval. The same goes for other people you work with too. The receptionists, the cleaners and the sales team could recommend any one of the trainers you work with when a member asks them about training, but if they tell people that you're the person to go to, enquiries will come flooding your way.
Fill Your Dead Time
How tempting is it to use the time between clients to sit there, chill out, maybe read a book or browse Facebook? You work hard and you need a break, but why not use just one spare 30 or 60-minute slot each day to take a staff member through their paces? The more members see that you're busy and start to notice people wanting to train with you, the more it establishes you as the top trainer in their minds. Plus, if they think – "Wow, Steve the receptionist could have his pick of any of the trainers here and he's training with (insert your name.) That says a lot." Or – "Karen the sports massage therapist would only trust someone who really knows their stuff to train her. Whoever that is giving her that strength session must be really great." Staff members talk to people, and the more your name gets around the gym, the better.
Trade Services
Training the staff doesn't stop at just those in the offices, reception or the cleaners – why not train other trainers too? While you might consider them competition, being friendly with other PTs goes a long way, and again, demonstrates to everyone on the outside that you have excellent knowledge and rapport. Plus, it's a chance for you to pick up some tips. Perhaps you have a workout with another trainer and love the way they do their stretching, or get a 6-week program from another, and think the way they set everything up is something you can use with your clients to make your own training better. Opportunities like this are a fantastic learning experience.
So How is it Done?
Here's what you need to do. (Preferably next time you're in the gym.) Make up 10 vouchers for a complimentary personal training session Give five of these vouchers to staff members you get along well with. Say that you want to try out a few new training methods and didn't want to give these to paying clients first without testing them, so wondered if they'd mind giving you 45 minutes of their time to go through a workout. Book in a time, and deliver a stellar session. (Don't see it as a "freebie" – really go all out to deliver your best.) After the session, thank them for their time, and give them another voucher. Ask if they'd mind passing this on if they know anyone else who might be interested in a complimentary session. If this goes well, set up a referral system. A trainer I worked with in my early days as a PT had an agreement with two of the receptionists whereby for every client they sent his way, he'd give them a free workout every time that client bought a block of 10 sessions. I have no idea how many paying clients he got from this, but considering he trained each of the receptionists at least once a week, I'm guessing that between the two of them, they delivered him 20 plus client hours a week. It's easy to become engrossed in your own activities, and just walk the gym floor or take inductions as a way to build your client base, but don't discount the power of getting to know the staff. People talk, and you want them talking about you. If everybody in the gym speaks about you in a positive way, and knows that you're the guy or girl who gets results and makes people feel good, you'll never struggle to get clients.
Mike Samuels
 is an online coach at 
HLHL
, writer and personal trainer from Southampton, UK. Alongside his coaching work, he loves helping other young coaches build their businesses (both in-person and online.) He has a love of lifting heavy weights, drinking coffee and eating ice cream.[templatera id="6524"]